Staying safe and cool in UK heatwave conditions..
<![CDATA[
The weather warning issued by the Met Office means that high temperatures across the UK could pose a health risk to some people.
Fortunately there is some helpful advice being shared across social media on how to keep safe and cool. Drinking plenty of water, wearing appropriate clothing and planning ahead are among the useful tips on 
how to cope in hot weather
 shared by NHSChoices on Twitter. Pregnant women can get advice from experts via the parents forum, Mumsnet, where a list of '
been there, done that tips
' are available ranging from freezing your sheets to wearing wet socks. For those thinking of using fans to keep cool, 
South Wales Fire and Rescue Service
 has warned people to be careful: "Using a fan is one way to stay cool , but these cooling devices can actually get a little too hot . Don't leave your fan running overnight or while you are out of the house" BBC Weather presenter 
Matt Taylor
 says the heat has not peaked yet: "Wednesday and Thursday could also bring 30C+ days with Scotland or Northern Ireland possibly seeing the highest temps then. This would give them their warmest June day since 1995." He adds there's also a chance that Northern Ireland will have its hottest June day on record – that currently stands at 30.8C at Knockarevan in 1976.
You might also like:
If you're tempted to have a barbeque, there may be some restrictions on firing up in public places, as noted by Cumbria County Council. Their advice includes emptying ashes onto bare garden soil, not into dustbins. In Greater Manchester, a wildfire on Tameside moorland which had been extinguished on Sunday, 
has reignited
.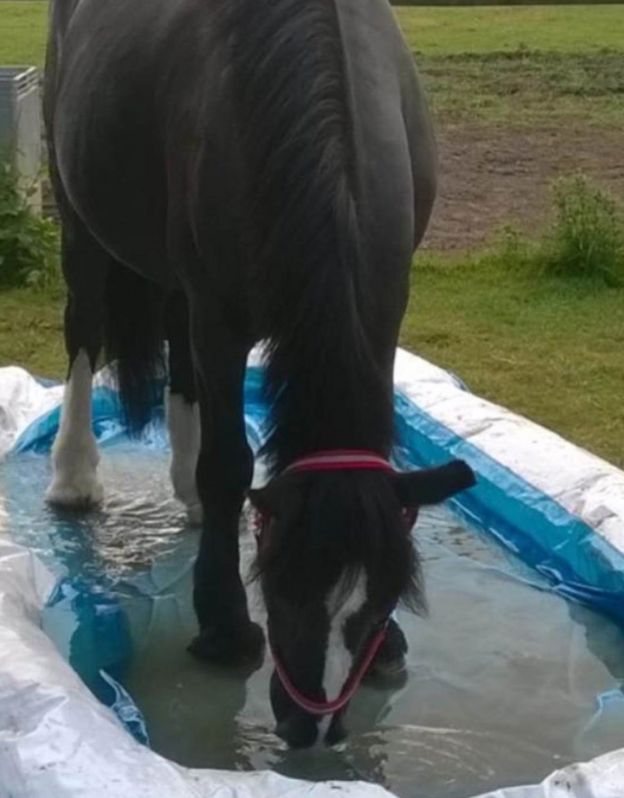 It's not just people who are affected by the heat. The RSPCA has
 issued advice on how to keep animals safe this summer
. Damp towels and paddling pools are two suggestions. There's also a wealth of photos of pets being cooled down, but what about the wildlife? In Leintwardine, north Herefordshire, the Environment Agency has been rescuing fish from the River Teme where water levels are dangerously low. Finally, the UK will not technically be having a heatwave until there are more than five days where the temperature is 5C higher than normal, according to BBC Weather's Matt Taylor.
https://www.bbc.co.uk/news/uk-44613570
]]>